Every so often an organization will reach out to our customer service team for advice about their current award or gift offering. Sometimes these representatives are just looking to change things up a bit; other times they are truly unhappy with a current design and are hoping that we can help.
Back story of a failed award design.
This story is about the latter type of situation. When first contacted by a spokesperson from the Michigan Independent Riders Group (MIRG), a 30-yr-old nonprofit organization located in the city of Fenton, MI, our customer service representative was told that the group had ordered specialty lapel pins for their members in honor of the organization's 25-yr anniversary, five years prior. They now needed pins for their upcoming 30-year celebration.
When promises are not kept, and gift deadlines are looming!
The company who had helped MIRG to design and produce the prior custom pin, provided guarantees that the finished product would fit their exact needs and be of high quality. An art "proof" of sorts was produced and presented, and the MIRG associate felt confident that she would be receiving exactly what she envisioned, and that she would be able to present a quality, commemorative pin to her fellow group members to honor their significant anniversary.
Was it truly an impossible custom design?
Our team learned that the design used five years ago did not accurately reflect MIRG's logo and looked unrecognizable as a rider on a motorcycle once produced. The group was dismayed at how poorly the pins turned out. It was told to them by the pin provider, that nothing could be done to fix the problem and that the design they wished for was an impossibly difficult layout or model to produce any better than they had.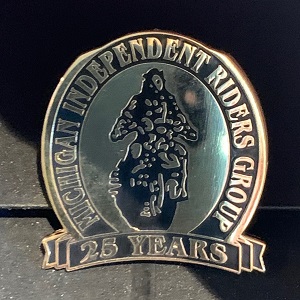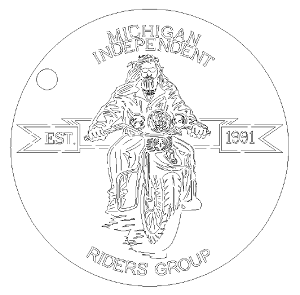 Honoring a landmark anniversary with custom gift design.
The group felt both betrayed and at a loss to know what to do next. They had their 30-yr anniversary approaching and were still hoping to offer members a special memento to honor the landmark achievement.
The Awarding You Custom Design Team to the rescue!
Knowing the talent of our own Custom Design Team, our customer service representative, assured the soon-to-be customer, that we could "take it from there" and provide her group with the exact custom design she wished for. The Awarding You Rep. then took her notes from the conversation, along with the rendering provided by the earlier vendor, and photos of the poorly crafted lapel pin that had been produced and walked them down to the art department.
Art proofs help build trust in the award design process.
Together, the AY team was able to create a true art proof in both black & white, to show the production lines, and in a virtual drawing to show color and just what the final pin would look like when produced. Because the customer had been misled once, special care was taken to ensure her confidence in the Awarding You design and production process.
The extreme makeover is a success, and a quality memento is presented.
The finished custom lapel pin for the Michigan Independent Riders Group turned out phenomenal, and a new loyal customer was born. The moral of this story is that no design concept is completely impossible, and that the Custom Design Team at Awarding You is ready for any art challenge. So, bring us your ideas and your sketches – or let us start from scratch to produce your specialty award or gift. Our job is to make your award giving meaningful and memorable.
If you have an award idea to share, or a gift design to update, let's talk. You can contact a Customer Service Rep here and get started today!