Need help finding the right words for your award? Let's turn your employee recognition ideas into a reality! Whether the award is for retirement, membership, sales, management, quality, or anything else, we've got you covered!
Finding the right words can be tough. There's a lot of pressure when it comes to choosing the perfect phrasing for an important award. But it doesn't have to be a stressful experience!
With over 25 years of experience and over 125,000 projects under our belt, Awarding You are experts at award ideas and wording.
Award Wording: How to say it?
Before getting started on wording, first you should lock down the reason for your award. Once you've narrowed the purpose of the award, coming up with the wording will be a breeze! Start first by answering these questions:
What achievement will you measure or reward?
How often will you give or present the award?
How will data be gathered to determine award recipients?
What type of award will you be presenting? (Plaque, trophy, art glass, medallion?)
How will you be presenting the award?
Giving an award can have an amazing impact if you use the right words. Whether typing an email, speaking, or brainstorming the text for an award, the words you use are important. The use of language and personalization on an award engraving greatly impacts how the recipient feels about the recognition you are giving them. For example, consider the differences from an award that says the recipient "Did a Fine Job" compared to "Outstanding Employee Who Goes Above and Beyond" - that difference alone can determine how proud the recipient is of their achievements.
"Words are singularly the most powerful force available to humanity." – Yehuda Berg
Need Help? Use the 5 W's
While finding the right words for an award may seem difficult, it doesn't have to be. When coming up with the phrasing for your award, use the 5 W's to guide your award wording. These five points will have you writing award copy in no time!
Who: Name and title of the recipient
What: Name of the award
Where: Name of event or organization sponsoring the award (name/logo)
When: Timeframe for the award (month/year)
Why: Reason for the award
Using these basic guidelines, an example appreciation award may read like:
Company Logo
The Annual
Appreciation Award
Is Presented To
Recipients Name
For Going Above and Beyond
Date
Here's an example of wording for a non-profit or volunteer recognition award:
Recipient Name
Volunteer of the Year
Thank You for Your
Dedication and Devotion
Start Date – End Date
Company Logo
Finally, here is sample wording for a leadership award:
Company Logo
In Recognition of
15 Years
Of Outstanding Leadership
And Guidance
Recipient Name
Date
With your award messaging mastered, now it's time to select the award itself! Since awards are extremely customizable, you should choose one that is meaningful to the award title or your brand.
One great idea is to have the shape represent the title of the award. For example, a corporate crystal award with a peak shape is perfect for an achievement award. Adding unique colors, such as a company's brand colors, can also be a unique and fun way to add personalization and prestige to an award. The possibilities of award shapes, sizes, and forms are endless!
Still looking for the perfect award? The Halo Beveled Crystal Award combines personalized engraving on the front with an elegant design that makes it perfect for its recipient to display prominently on their office desk or shelf. These corporate crystal awards are extremely popular for team recognition, goal achievement awards, sales awards, and more.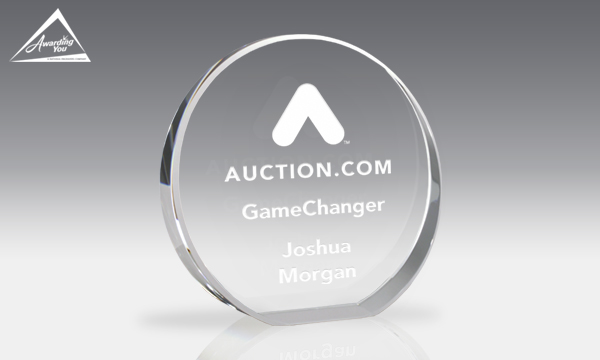 Finding the perfect wording for an award is the best way to make the recipient feel celebrated and appreciated. In fact, 86% of businesses have an employee recognition or awards program because it not only boosts employee satisfaction but it also benefits the company's reputation.
Need help? See our guide for dozens of employee recognition ideas and don't hesitate to get in contact with our team. Our award experts can not only help you find the perfect award for your next company event or meeting, but help you plan and construct meaningful words that give your award recipients the recognition they deserve. Call us at 800-753-3384, live chat with us, or shoot us an email at sales@awardingyou.com.